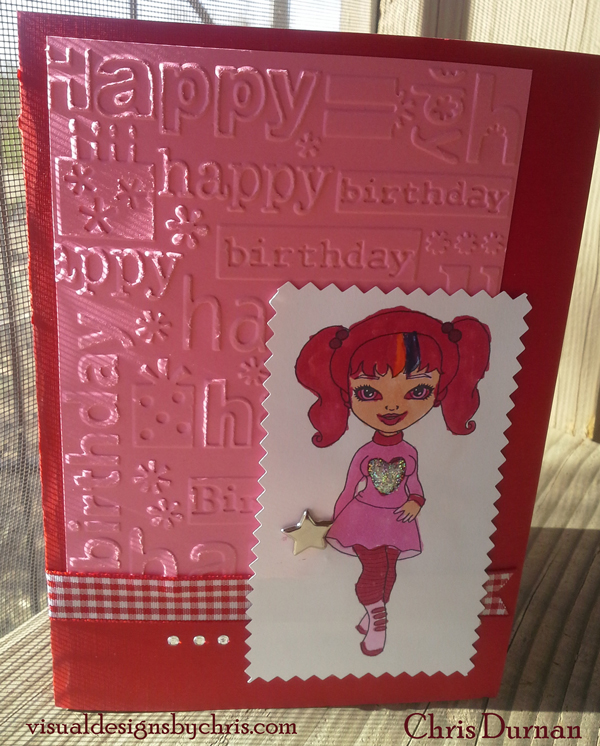 I have a collaboration Birthday card to share today. I have some Copic Markers and my son really wanted to use them. I had an extra print of some digi-stamps and so he colored in and left it on my color clipboard. It was wonderful because I needed a birthday card for my God Daughter. Perfect time for a collaboration birthday card. Lots of fun and he totally smiled when he saw it finished on my studio table. Love that!
Method:
-My son colored with Copic Markers
-I have no idea where the digi stamp came from. Just found it in my downloads.
-I used a cuttlebug to emboss the Happy Birthday pattern on the pink paper
-Some red and white gingham ribbon, red cardstock and pink cardstock all from my studio.
-Stickles on the heart
– Silver heart (covering a woops) and 3 rhinestones found in drawers in my studio.
-Fiskars scissors for material used on the paper to cut the jagged edge.
-Working with my Son's Project. Priceless
Although Copic Markers are pricey and it can be stressful the ends will get bent, I find my Son is very respectful of my things when I let him borrow them. I cannot imagine having said no and missing this opportunity to have a collaboration card. This is not how I would have colored this image at all. I love what he did with it and it will be perfect to accompany our gift.  If you have little ones around, try inviting  them into your space, your craft room, and see how they can inspire you.
Enjoy!
Chris
"Subscribe to the blog"
Receive an update straight to your inbox every time I publish a new post. Your email address will never be shared