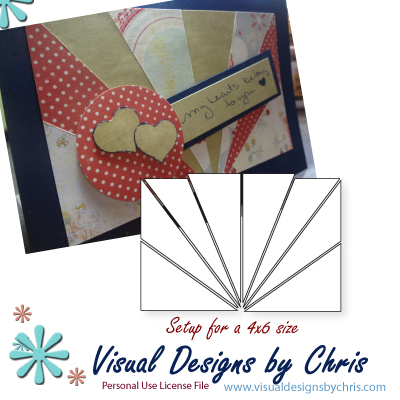 Still celebrating my move to a new space. Woohoo!
Today, I am offering you a file to make your own sunburst/starburst card. I cut this to create a 4×6 card. I cut 4 different papers and created 4 different sunbursts. One I used on my handsome Hubby's card, another I cut to use in my project life and the others I put in my to use pile. They will be quick and useable for birthday cards etc. You can increase the size of the file and make a larger burst or two.
I like these cards. Pretty fun and full of color if you choose the right papers.
I will post the rest of my card pictures later in the week.
Enjoy!
Chris
File details:
Clicking the below LINK means you are agreeing to Personal Use Only Terms
You can download here.
This is for your personal use only.
The files already loaded when I prepare this post are: MTC, SVG, DXF, AI, KNK
I will upload more versions when I have different softwares open.
Please share your projects with me. I would love to see them. You can contact me by anyway listed on my Contact Page. 
"Subscribe to the blog"
Receive an update straight to your inbox every time I publish a new post. Your email address will never be shared